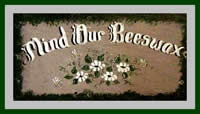 Your shopping cart is empty!
Wood Fairy
Product Code:
709
Availability:
In Stock
Price: $5.00
Ex Tax: $5.00
Dimensions: 3"x2"
Another fairy hiding in your garden!
Each of my 100% beeswax creations is handcrafted and will last for years. Beeswax will not melt in your home; it has a melting point of 142F. The ornaments have a light honey scent from the residual honey left in the comb after the honey is extracted: this is organic and not artificially added.
Beeswax ornaments were first made by German bakers in the sixteenth century using candy molds. There are beeswax ornaments in German museums that are over 100 years old.
Beeswax candles are clean burning and allergen friendly. They burn brighter and cleaner than paraffin based candles. Beeswax candles have a very long burn time, and they will burn dripless in a draft free environment.
Beeswax can develop a hazy, powdery film known as bloom. Like chocolate when it is stored in the freezer, a white haze may occur. When this happens with beeswax, simply warm the wax with a blow drier and it will become shiny again. You can also wash it with warm water and dry with a soft cloth.
Beeswax is beautiful to smell and touch. Carefully handcrafted beeswax ornaments and candles are wholesome things of beauty and a reminder of our connection to the natural world.
Write a review
Your Name:
Your Review:
Note:

HTML is not translated!
Rating:
Bad
Good
Enter the code in the box below: