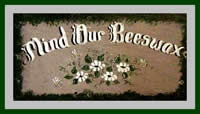 Your shopping cart is empty!
Delivery Information
Delivery Information
I offer free shipping for orders $50.00 and up. For orders less than $50, the following charges apply:
$5 for orders up to $15.
$6 for orders $15.01 to $25
$7 for orders $25.01 to $35
$8 for orders $35.01 to $49.99
Shipments are sent via USPS either Parcel Post or Priority delivery. I try to ship Priority when economically feasible. Contact me by e-mail if you require next day USPS or any other expedited delivery for delivery fees.